Testimonials
My wife and I planned our wedding in 3 short months. Amid all the chaos, what to do about the music before and during the ceremony was an unfortunately overlooked detail. Imagine our dread when we realized this less than two weeks before the wedding.
With my wife working a 9-5 and myself working from home, most of the "smaller" details fell to me. After a few days search, I had decided that a DJ would not only be too expensive, but also tacky, especially considering the setting (we got married outdoors, underneath/between two large flowering trees, in the Los Angeles Arboretum).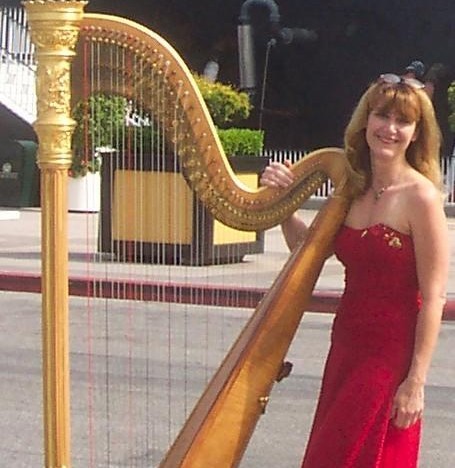 Eventually, I decided that a lone harpist would be the best, as it would be cheaper than hiring a string quartet, and most importantly, fit the setting perfectly in its elegance.
After watching several videos on YouTube of different harpists in the area I decided on Katrina. Thank God I did! Her music was heavenly, and made the ceremony come alive. Also, she was willing to work within our budget, and was willing to take requests, even if she was unfamiliar with the particular piece of music.
I honestly can't imagine that aspect of our wedding being any better had I chose someone else, or even worse, a different type of performer (DJ or string quartet). Our wedding was not only the best day of our lives, but also the most beautiful and magical. Katrina Saroyan is, without doubt, one of the reasons for that. Alex
Katrina is a multi-talented musician that transforms your event into a truly elegant atmosphere. Her music is enchanting and her performance is so graceful. She made our fairy tale wedding come alive! She worked with us tirelessly all the way from the beginning to the end. Thank you so much Katrina for your patience and professionalism; it was more than what we could ever ask for! Geraldine
My family was happy with the song she played especially knowing how to play Filipino songs. She also sang them so beautifully. If I have to do it all over again, I will hire her in an instant. She was great to work with and very responsive with all our requests. Our guests were very entertained. I received numerous compliments on my ceremony and it's all because of Katrina. I was pleased that she learned to play a complex Filipino song that I've loved since childhood. When she played it so beautifully as I marched down the aisle, I could see that everyone was pleasantly surprised. Katrina, thank you for all your help! Catherine
Katrina was wonderful! I sent her a piece of music that I wanted to have her play as the bride's processional, and she learned it and played it flawlessly! She would provide a beautiful aspect to any wedding or event. Highly recommended! Dan
Katrina was wonderful in every way. She worked closely with the minister to choose music for the service, and went out of her way to select a dress that matched the bridesmaids'. She arrived early and played beautifully. We'd love to have a chance to hire her again. Keith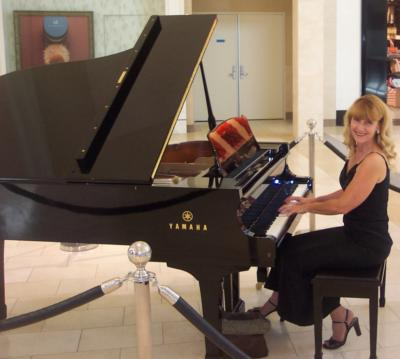 She is so sweet. Me and my clients, we all loved her very much. She was very talented. On time and beautiful. Thank you for making our Grand Opening event even more grand with your presence. I am sure we'll see each other again soon. Marjan
Katrina was very accommodating and a pleasure to work with. She was a true professional who played a variety of beautiful music at our daughter's wedding reception and added the final touch to a perfect day. Her gold harp was a perfect addition. We give her five stars! Jan